Welcome to the 12-Book adventure that is the Thin Ice Series!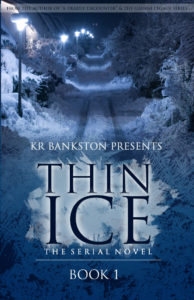 Our story begins on the East side, where we meet Ice and our supporting cast. Kaitlyn "KiKi" Ross and Jaleesa "Tweety" Mitchell; two ladies who can hold their own in the game, making moves and plays as well as any of their male counterparts. Things are fine until Tweety crosses the line, unwittingly dragging KiKi along, and invade Ice's territory. That's when everything becomes complicated.
Throw in a romantic triangle or three and the fun really starts. Ice has a thing for KiKi, but she has a thing for Tariq. Tariq Taylor is the short order cook she sells smack to and thinks he's a junkie. Tariq is into KiKi, but Landon, the guy who works for the arena league that KiKi meets at the club, is determined she's going to be with him. Confused yet? No? Well there's Tweety's man Evan, Landon's friend, who isn't what he presents himself to be and who also happens to have hidden lust for KiKi.
Ice is not a man accustomed to hearing no, or being outwitted in his business. His reaction to both is force, sometimes deadly. Begin the ride with us and meet all the players in our serial drama, starting with the beginning, BEWARE: Thin Ice. Hardcover Limited Edition: https://www.krbankstononline.com/product/thin-ice-limited-edition/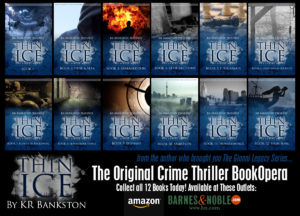 TI2 – Hide & Seek
Three years later, the city of Atlanta, we still find Ian "Ice" Bailey on top of the world. His businesses are flourishing; the empire he shares with his brother Ryan is strong and ever expanding. He's gaining new allies on a daily basis and his relationship with Kaitlyn "KiKi" Ross grows deeper with each passing day. There are shadows looming on the horizon though; the winds of change and discord beginning to gain speed, heading straight for the Bailey brothers.
Ice's utopia is shattered one darkened night when KiKi is violently kidnapped by unknown assailants. Furious about his woman being taken and determined to show the perpetrators why he's called Ice, Ian sets out to find KiKi and return her to her proper place, by his side. The kidnappers however have other plans. Perhaps it would behoove Ice to remember to keep his friends close and his enemies in sight.
TI3- Armageddon
The saying goes: You can't keep a GOOD man down. For Ian 'Ice' Bailey that means payback's a bitch. Left to rot in a hellish, nightmarish existence inside Carsdale Mental Hospital, buried deep in the back woods of Louisiana, the fortunes smile once again on Ice when a sympathetic doctor begins a one-woman crusade to free him after finding out his true identity. Knocking down barrier after barrier, she succeeds and Ice is once more a free man. But now what? His brother and bestfriend, Ryan, is dead. He has nothing and no one.
Things haven't been coming up roses for Tariq 'Top' Taylor and the woman he loves, Kaitlyn 'KiKi' Taylor either. After suffering a devastating loss, KiKi has withdrawn from life and from her husband with no real end in sight. Tariq is at his finish trying to reach his wife through her haze when he gets word the one man he hates the most is free once again, causing him to send for reinforcements. He needs to neutralize the threat of Ice reappearing and upsetting his life with KiKi before it gets started.
Armageddon – The last battle between good and evil before the Day of Judgment; and that's exactly what's about to happen when these two factions meet once more. Lies and secrets will be exposed. No one will be left unscathed or untouched when the layers are peeled back; causing some to question the very meaning of how well do you really know someone?
TI4 – Resurrections
Life sometimes takes strange twists, for seemingly no reason at all. Things long since grieved over and buried, forgotten and left behind, seem to be resurging; defying reality and logic. Ice and Ryan are dead, their legacies not soon forgotten. For Tariq and his partners this is welcomed and blessed release. For the newly wealthy Jalen Bailey, their lives are a mystery he wants answers to. Jalen wants to know his blood. His mother adamantly denies the discovery, saying he has no brothers.
Determined, Jalen enlists the help of an acquaintance, one heavy into the game who may be able to help him find what he seeks. The old adage "let sleeping dogs lie" may best apply in this situation, when simple curiosity ignites a powder keg of deceit, lies, innuendo, and secrets opening a door Jalen may regret he ever requested a key to enter, as the walls begin to close in and the springs on the trap he's willingly stepped into, tighten.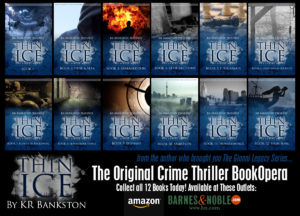 TI5- Checkmate
Finally the specter of Ice's interference has been removed and Tariq and Kaitlyn are happily raising their twin daughters, their lives and business back on track in their new home, Gary, Indiana. It would seem the fates have found favor in the couple and are allowing them some measure of peace to cherish, live, and dream their future together.
Ian is moving to Overton Park. He's ready to return once again to the greatness the Bailey Brothers once were. The prospect of seemingly limitless power promised through his new merger with Ray Lockhart, gives him reason to smile, now that the woman he still loves wholly has once again rejected him for his mortal enemy.
A knock at the door and a manila envelope delivered by courier soon changes Ian's perspective as his new partner gives him the ammunition he needs to deliver the lethal concluding finale to Tariq and Kaitlyn's union; his victory all but guaranteed and her return to his arms certain.
Thin Ice 6 – Hangman & Socrates
Ian "Ice" Bailey and Kaitlyn "KiKi" Ross have a destiny. Their lives have been filled with one tumultuous, tempestuous, occurrence after the other. Finally fate, divine destiny, or just plain bad luck, depending on one's point of view, has brought them together as man and wife, and more importantly as business partners.
But who is responsible for the larger than life shadows that both Ice and KiKi cast? Why is the name Hangman Cisneros still enough to strike fear into men's heart? Who was Socrates the Philosopher? Thin Ice 6: The Hangman and the Philosopher, answers those and other questions by taking you back into the past, so you can understand the present, and foresee the future.
TI7- Epiphany
Victor (n) : A person who defeats an enemy or opponent in a battle, game, or other competition.
Surely Ian ICE Bailey has proven without a doubt that this word perfectly describes him. He's defeated Tariq TOP Taylor in the most personal of ways; finally taking KiKi from him, as the revelations of their one night together come full circle and paternity tests reveal he is father to both Tedjra and Tadjra.
Perchance Ice shouldn't be so comfortable just yet. There's a new player in the game who believes the world is his and he's determined to prove it. The storm on the horizon is closer than anyone thinks, with the eye of the hurricane aimed directly at everyone involved in the warring cliques; no favorites. Like Dominoes on a table, the first gentle nudge sets the chain in motion with each and every tile playing its role, until the final piece falls, the game is over and the Vanquisher declared.
Who will win this war of wills and who will become yet another casualty in the ongoing battle of the factions to control the Syndicate once and for all?
TI-8 Separazione Finale
Ian 'Ice' Bailey is running out of time. His wife, Kaitlyn 'KiKi' Bailey, is moving full speed ahead with plans to divorce him and reconcile with her ex-husband and current lover, Tariq 'Top' Taylor. Ice is pulling out every stop, every dirty, and underhanded, trick in the book to ensure that doesn't happen.
Jason 'Blue' White is on a mission of his own. Sick of both Ice and Top hindering his plans of a romantic reunion with KiKi, he enlists help to find a rumor of the past. One he's hoping is an ace in the hole to tip the odds of winning her over in his favor.
The battle lines are once again drawn, sides chosen, and the unpredictable hand of fate will deal the final cards. Who will have the winning hand? Call the bluff ? Fold? Open the door and find out: Thin Ice 8 – Separazione Finale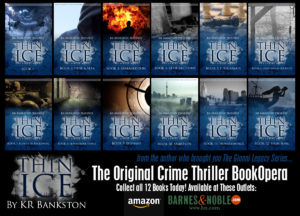 TI 9 – Epiphany
What doesn't kill you will only make you stronger.
After discovering the mistake that changed his life forever, Ice is painstakingly putting himself and his business back on track and learning to live again. Tariq's own blissful happiness is marred by unexpected tragedy, throwing everyone's lives into a tailspin. Leveling out finally, he starts the journey leading everyone to wholeness once again.
Regrettably the past is never quite as dead as it should be and this time is no exception as new players emerge with an old agenda. When will they learn and understand some forces aren't meant to be reckoned? That it is better to let some sleeping dogs continue to slumber? That even the best laid plans can fail? Perhaps ignorance truly is bliss; in this case however, it can be deadly.
TI10 – Ambition
Stagnant, Stale, Boring. The feelings expressed inside both camps. The time for rest is over. Our factions have decided it's time to procure more territory, setting about to do that very thing. After garnering new alliances, they begin mapping out new cities, states, and municipalities, to call their own; careful to give their opposing faction wide berth.
Tariq is content with the tenuous truce between himself and Ice, simply wanting to live his life and run his empire. Ice however, is still reeling from his loss of Kaitlyn, his thoughts continually on how he lost her; the journey being undertaken a welcomed salve to soothe his pain.
The inhabitants of the proposed new territories don't always go peacefully however, bringing about the need for bloodshed. Never ones to shy away from a fight, both Ice and Tariq continue the quest ,the futile resistance falling by the wayside, victory declared, territory claimed.
There are the select few however, enemies without name or face, who slip in as thieves in the night and upset the natural progressive order, pulling both Ice and Tariq down a new path; into detours undesired, loose ends unneeded, and results catastrophically unexpected.
TI11- Homecoming
Business handled, conquests made, supply and suppliers on track, it's time to return home for our road weary soldiers. Home, the place of tranquility, peace, joy and happiness. The place where one can retreat from the pressures and demands of the outside world.
For the Bailey Brothers, Tariq and Raider, as well as their associates, home isn't the oasis it once was. There are loose ends to be controlled, choices made that must now be implanted, secrets too long held. All their lives, hearts, and psyches are touched, forever altered; the indelible imprints seared into their very essence.
Will our crews make the right choices, both individually and corporately? Will they be able to live with the choices they make? What about the choices they have no say in, and are forced to endure? Who lives to fight a new day? Take the ride with us and see for yourself, Thin Ice 11 – Homecoming.
TI12- Siren Song
The Siren's Song: an enticing appeal of something alluring but potentially dangerous. This would seem to be the theme of life for our soldiers and their loved ones on a daily basis. Even in the midst of happiness, reunions, past and present loves, the specter of things hidden raises its ugly head on a continual basis.
The past is never truly far away, the future always uncertain; the only thing one can genuinely believe in, is right now. What does right now hold for our soldiers? Will they finally outrun the darkness, the doubts, the fears, that remain ever present? Will there be peace, wonderful new beginnings, and love abounding? Join us on this, the final voyage of the Thin Ice serial, and appease your curiosity.
Thin Ice Volume (bks 1 – 12): https://www.krbankstononline.com/product/thin-ice-volume-kindle/
Read a full excerpt of Thin Ice (bk1) via Patreon: https://www.patreon.com/posts/thin-ice-bk1-17104177 
Thin Ice continues with the NOIR FROST series. Visit the SHOP tab for more great KR Bankston novels and series.